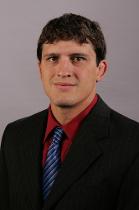 When Jeremy Spates joined SIUE wrestling as the program's head coach five seasons ago, his aim was the "Restore the Glory." With an outstanding 2016-17 season, the Cougars are more than on track.
During the 2016-17 season, Jake Residori became the first Division I All-American since Tim Wright in 1987. The 174-pounder placed eighth at the Division I Championships at the Scottrade Center in St. Louis.
Residori was one of three NCAA qualifiers in St. Louis, joining Freddie Rodriguez at 125 pounds and Jake Tindle at 197 pounds.
The Cougars had three Southern Conference Tournament champions (Rodriguez, Residori and Tindle) with John Fahy placing second. That gave the Cougars a program-best third place finish at the SoCon Tournament.
SIUE continued to make strides during the 2015-16 season, advancing two more wrestlers to the national championships at Madison Square Garden with Rodriguez and Fahy leading the way.
During the 2014-15 season, Connor McMahon and Tindle each won their respective weight classes at the SoCon Championship and advanced to the NCAA Division I Championship in St. Louis. Tindle would go on to be the first wrestler of the Division I era to record a victory at the Division I Tournament.
Residori also posted a first for the Cougars that season, becoming the first SIUE wrestler to be named All-Southern Conference after collecting 27 wins.
During the 2013-14 season, Spates oversaw the development of heavyweight David Devine who became the first SIUE wrestler to advance to the NCAA Division I Wrestling Championships since 1987. Devine also was crowned SIUE's first Southern Conference individual champion in 2014.
Spates came to SIUE after nine seasons as one of the nation's premier assistant coaches. With an impressive track record of performance as both a coach and a student-athlete, he spent four seasons as an assistant at Cornell University, helping Head Coach Rob Koll and the Big Red to a fifth-place finish at the 2013 NCAA Championships. He also spent five seasons as an assistant coach under his father, Jack Spates, at the University of Oklahoma.
Spates was a 2004 NCAA All-American as a student-athlete at the University of Missouri. He was a three-time team captain under Head Coach Brian Smith. Spates competed at the 2004 National Wrestling Coaches Association All-Star meet in Cedar Falls, Iowa, winning his 149-pound match. He was the 10th wrestler in Missouri history to record more than 100 victories.
His coaching career has included six top five team finishes in nine years as an assistant, including two runner-up finishes for Cornell in 2010 and 2011. The Cornell recruiting class was ranked No. 1 in the nation in 2011. Spates has helped oversee seven individual NCAA Division I champions and 28 NCAA Division I All-Americans.
He was a major influence on the development of four-time national champion Kyle Dake, of Cornell, who became the nation's first wrestler in 2013 to win NCAA titles in four different weight classes. Dake was named Sports Illustrated Male College Athlete of the Year.
Spates has been involved at the ground level of collegiate wrestling whether it has been recruiting, running camps, developing individual training sessions, or fundraising.
Rob Koll, Head Coach, Cornell University
"It's great to have someone who looks at it that no job is too big or too small. He's the kind of guy who rolls up his sleeves and gets in. He was in there every day working with Kyle (Dake) technically, physically, and emotionally. He's been around success his entire life. He has had a very broad scope of programs, and because of that he has an extremely large skill set."
Kyle Dake, 2013 Sports Illustrated Male College Athlete of the Year, Cornell University
"Coach has been one of the most important people to me for the last four years. He's been a great mentor not just in wrestling but as a person as well. I'm really proud of him. He's put in a lot of time and deserves something great. The head coaching job is the next logical step. I'm really excited for him and hope he does some pretty amazing things."
Brian Smith, Head Coach, University of Missouri
"He was a three-year captain for me and an amazing leader during my first recruiting class at Missouri. It was like having an extra coach in the program. He came up with the phrase 'Tiger Style' that is the philosophy of our program. He's an unbelievable young man who has a great career ahead of him."